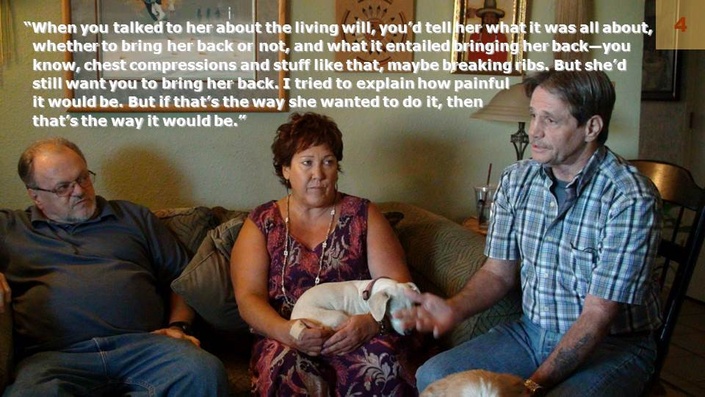 Listening Deeply
Lessons in Decision-Making from 24 Families
Seven lessons you can learn to better to support your patients with medical decision-making
The Coalition for Compassionate Care of California and Point Forward joined forces to better understand the experience of patients and their loved ones with medical decision-making in the face of serious illness. Find out what we learned after interviewing 24 families with diverse cultural and ethnic backgrounds, including Caucasian, African American, Latino, and Chinese.
Presenter(s)
In his role as a partner at the innovation consulting firm Point Forward, R. Griffin Coleman, PhD has returned to his calling as a cultural anthropologist. Originally trained in anthropology at UCLA and Columbia University, his instincts for fieldwork were earned during two years of ethnographic study in the Batak region of North Sumatra, Indonesia. After 18 years in the Silicon Valley software industry, coming full circle, he joined Point Forward, a design industry pioneer in the application of ethnographic techniques to product and service design. As a commercial ethnographic researcher and innovation consultant at Point Forward over the last 11 years, Griff has worked in a wide variety of product and service domains, including high tech, automotive, consumer package goods, food and healthcare, in Asia and Europe as well as the US. Ethnography in clinical and home healthcare settings, covering a complex and challenging intersection of patient knowledge, imperatives for new life styles and industry change, holds special interest for Griff. His main theoretical interest is the concept of culture—its epistemology, how best to collect field data about it, and using it to catalyze institutional change.

Frequently Asked Questions
When does the course start and finish?
Once you enroll, the webinar will be available to view immediately. The webinar is a completely self-paced - you decide when you start and when you finish.
Are continuing education credits (CEs) available?
At this time, we are unable to provide continuing education credits for recorded webinars. CEs are available for social workers, nurses, nursing home administrators, and chaplains with many of our live and in-person trainings. For more information on our upcoming education, coalitionccc.org/training-events.
I am not a member of the Coalition. How can I join and get member discounts?
Join online when you register for the webinar, or join online today at coalitionccc.org/membership! All purchases at the member rate will be confirmed by CCCC's staff.
I think I am a member. How can I confirm my membership status?