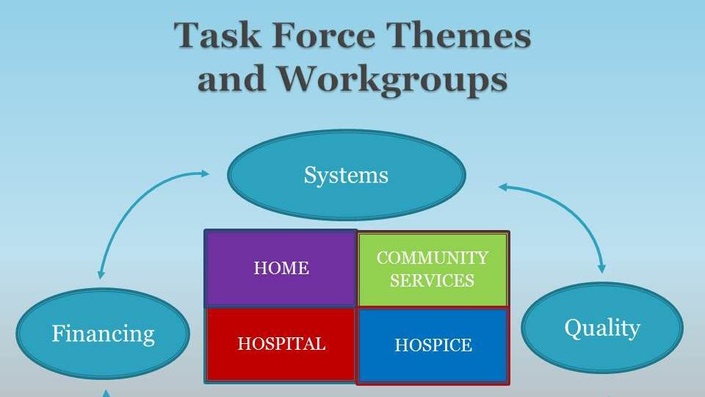 How to Launch a Palliative Care Task Force
In Your City or County
Have you ever wondered how you can start a palliative care task force by working with your local government?
Don't reinvent the wheel—tune in to this webinar and learn how the San Francisco Palliative Care Task Force launched an initiative to meet the city's current and future palliative care needs.
Presenter(s)
Anne Hinton is Executive Director of the San Francisco Department of Aging and Adult Services.She is responsible for the Department's 4 divisions: In-Home Supportive Services, Protective Services, Office of Long Term Care and the Office on Aging/ Veterans Services.The Department is the central door of a no wrong door for information, counseling and referral and is a designated Aging and Disability Resource Center (ADRC) which funds 45 community service providers for programs such as congregate meals, senior centers, home delivered meals, case management, family caregiving, naturalization, legal services, etc.The Department of Aging and Adult Services serves older adults as well as younger disabled adults.
She has also served as the Director of Home Care, Care Management and Fiduciary Services for the Institute on Aging, the Director of Aging Services for San Francisco Catholic Charities and Director of the South San Francisco Senior Services.She is an experienced lecturer/teacher in the field of Gerontology.She is also a member of the Board of the National Association of Area Agencies on Aging, the California Association of Area Agencies on Aging and has served on other boards, professional associations and committees whose focus is long term care.
Monique Parrish, DPH, MPH, MSSW is the Director of LifeCourse Strategies, a healthcare consulting firm specializing in strategic planning, project facilitation, and program planning and development. Dr. Parrish is also a clinical social worker who has worked extensively with disadvantaged older adults and their families; she currently volunteers as a social worker in daytime program for homeless women. Dr. Parrish began her career as a Peace Corps health volunteer in the Central African Republic. She received her Master of Public Health and Master of Science in Social Work from Columbia University and her Doctorate in Public Health from the University of California, Berkeley. She is the author of numerous reports and journal articles addressing caregiving, care transitions, and palliative care.
Christine Ritchie, MD, MSPH, FACP, FAAHPM is the Harris Fishbon Distinguished Professor in Clinical Translational Research and Aging. She is a board certified geriatrician and palliative care physician with long-standing experience in clinical care delivery and advanced illness research. Dr. Ritchie has overseen the development of a number of comprehensive clinical programs for seriously ill older adults, most recently at the University of Alabama at Birmingham (UAB) where she directed the Center for Palliative and Supportive Care. At UAB, she oversaw the opening of two palliative care units, led the expansion of the Center's educational, research and community outreach activities and directed the UAB Geriatrics Education Center and Reynolds Program, UAB's Center to Advance Palliative Care (CAPC)-designated Palliative Care Leadership Center and the NIA-funded Advanced Illness and Multi-morbidity Research Program. At UCSF, Dr. Ritchie is working with other colleagues to facilitate the growth of clinical programs and research that focus on quality of life and healthcare delivery models for those with chronic serious illness and multimorbidity. She is President-elect of the American Academy of Hospice and Palliative Medicine.
Frequently Asked Questions
When does the webinar start and finish?
Once you enroll, the webinar will be available to view immediately. The webinar is a completely self-paced - you decide when you start and when you finish.
Are continuing education credits available?
At this time, we are unable to provide continuing education credits for these recorded webinars. CEs are available for social workers, nurses, nursing home administrators, and chaplains with many of our live and in-person trainings. For more information on our upcoming education, coalitionccc.org/training-events.
I am not a member of the Coalition. How can I join and get member discounts?
Join online when you register for the webinar, or join online today at coalitionccc.org/membership! All purchases at the member rate will be confirmed by CCCC's staff.
I think I am a member. How can I confirm my membership status?