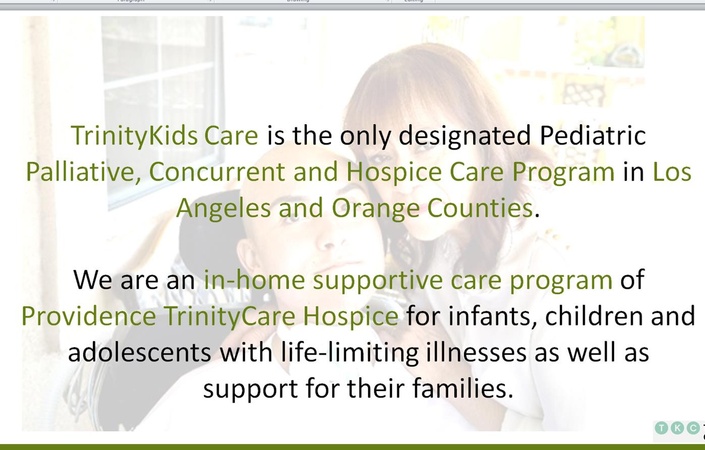 PEDIATRIC SERIES: Concurrent Care
Pediatrics and complex care plans
This webinar will serve to help participants gain an understanding and appreciation for the complexities of caring for children with life-limiting illness. We will explore the development of pediatric concurrent care in California, the regulatory requirements and how our organization meets the needs of this special population. Ultimately, we hope to impart an appreciation for pediatric hospice, concurrent care and the team(s) who care for this population.
Presenter(s)
Shayna Stiles
Executive Director
Providence TrinityCare
Shayna Stiles has been the Executive Director of Providence TrinityCare since 2017. Prior to this, she served as Director of Operations for Providence TrinityCare and as Manager for TrinityKids Care, a pediatric program of Providence TrinityCare. As a hands-on leader with an analytical, innovative, performance-driven with over 27 years of progressive experience in healthcare systems, Ms. Stiles is highly adept at identifying, recommending and implementing creative tools, policies and procedures to streamline medical operations and positively impact growth. Under her leadership, the program has seen the development and implementation of a state pediatric waiver program and grew the pediatric programs by 50%, and TrinityKids Care has evolved into the leading provider for pediatric hospice and palliative care in Los Angeles and Orange counties and the only hospice program in the area to be staffed by a dedicated pediatric interdisciplinary team. Excelling at collaborating with all levels of staff and support systems to motivate teams to accomplish strategic priorities and initiatives, she brings meaningful and measurable results in an ever changing health care environment.

Brandi O'Brien, NP
Pediatric Nurse Practitioner
Providence TrinityKids Care Hospice


Brandi O'Brien is a Pediatric Nurse Practitioner for Providence TrinityKids Care Hospice. She is board certified in pain management, oncology, hospice and palliative care, public health and as a Nurse Practitioner in both Acute Care Pediatrics and Adult/Gerontology. Ms. O'Brien is an active member on the research council of the National Board of American Society of Pain Management Nurses and a boad member of the local chapter. Her education includes a Master's degree from the University of California, San Francisco and a Post master's degree from California State University, Los Angeles. She has experience in teaching locally and nationally in pain management, palliative care and oncology. She has also developed standardized protocols including Opioid Induced Constipation, Sleep Hygiene implementation of a pain resource nurse steering committee. Her past nursing experience includes oncology, bone marrow transplant, pain management, hospice and palliative care and infusion care. This year, Ms. O'Brien will be working jointly with another pediatric palliative care provider on research regarding care coordination across the continuum. In her free time, she enjoys triathlons and traveling.
Frequently Asked Questions
When does the webinar start and finish?
Once you enroll, the webinar will be available to view immediately. The webinar is a completely self-paced - you decide when you start and when you finish.
Are continuing education credits available?
At this time, we are unable to provide continuing education credits for these recorded webinars. CEs are available for social workers, nurses, nursing home administrators, and chaplains with many of our live and in-person trainings. For more information on our upcoming education, coalitionccc.org/training-events.
I am not a member of the Coalition. How can I join and get member discounts?
Join online when you register for the webinar, or join online today at coalitionccc.org/membership! All purchases at the member rate will be confirmed by CCCC's staff.
I think I am a member. How can I confirm my membership status?