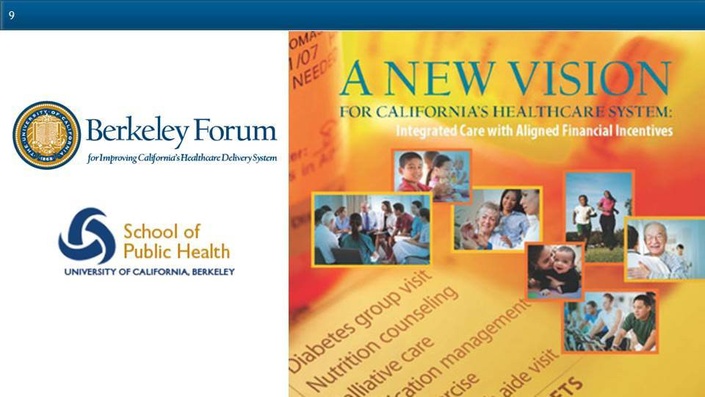 Berkeley Forum's Vision for California's Healthcare System & Palliative Care
With healthcare reform, how are you going to improve patient care while saving valuable hospital resources?
Palliative care is a key strategy to making our health system better -- it's patient-centered, high quality, healthcare that uses resources effectively.
Join us for a dynamic webinar that gives you strategies for:
Creating the palliative care business case, and
Conveying how it can improve patient care.
It's the future direction of healthcare.
The Berkeley Forum -- a collaborative effort involving policy experts from the University of California at Berkeley, CEOs of major health insurers and healthcare delivery systems, and leaders from California's public sector -- produced a detailed road map to transform California's healthcare system and improve care and outcomes while saving billions of dollars in the process. Palliative care is a key part of that strategy.
Presenter(s)
Stephen M. Shortell, PhD, MPH, MBA, is the Blue Cross of California Distinguished Professor of Health Policy and Management and Professor of Organization Behavior at the School of Public Health and Haas School of Business at University of California-Berkeley. He is also the former Dean of the School of Public Health at Berkeley, and holds appointments in the Department of Sociology at UC Berkeley and the Philip R. Lee Institute for Health Policy Research, UC San Francisco.
Clare M. Connors, MPH, is a 2012 UC Berkeley MPH graduate, concentrating in health policy and management. Prior to entering the MPH program, she was a Director in the San Francisco office of Buck Consultants, a large employee benefits and actuarial consulting firm.In that position, she advised large employers on all aspects of the design, funding and administration of their employee benefit plans.Prior to her 10 years in benefits consulting, she spent 7 years as on the insurance carrier side as an underwriter of health, disability and stop loss coverage.She holds a degree in economics from Oberlin College.

Frequently Asked Questions
When does the course start and finish?
Once you enroll, the webinar will be available to view immediately. The webinar is a completely self-paced - you decide when you start and when you finish.
Are continuing education credits (CEs) available?
At this time, we are unable to provide continuing education credits for recorded webinars. CEs are available for social workers, nurses, nursing home administrators, and chaplains with many of our live and in-person trainings. For more information on our upcoming education, coalitionccc.org/training-events.
I am not a member of the Coalition. How can I join and get member discounts?
Join online when you register for the webinar, or join online today at coalitionccc.org/membership! All purchases at the member rate will be confirmed by CCCC's staff.
I think I am a member. How can I confirm my membership status?